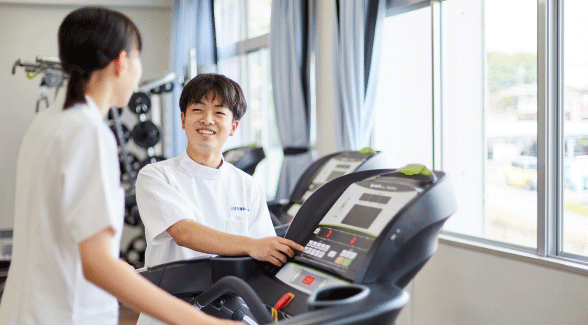 What Does a Physical Therapist Do?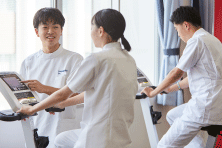 Physical therapists are specialized rehabilitation professionals that help people with physical maladies due to illness or injury resume their lives in society as quickly as possible. Physical therapy mainly consists of exercise therapy aimed at recovering basic bodily functions, such as standing and walking, but can also include techniques using various forms of physical energy (such as heat, massage, therapeutic ultrasound or electric stimulation).
Real-World Needs
As population aging advances, demand for physical therapists is rising not just in medical facilities, but also social welfare facilities and the public health field at large. Sports-related needs are also growing, expanding the areas in which physical therapists work even further. Going forward, the need for physical therapists to provide expertise as part of a team—collaborating with doctors, nurses and other professionals—will continue to grow.
About the Department of Rehabilitation: Physical Therapy Course
Founded in 2007, the Nihon Institute of Medical Science is a relatively new university, but it carries on the tradition of the Josai Vocational College of Medical Technology. The institute offers particular excellence in terms of clinical training and employment after graduation.
The Department of Rehabilitation's Physical Therapy Course is designed to develop physical therapists who are equipped to meet society's diversifying needs. Physical therapists must seek to understand how patients are afflicted, what problems they face and what outcomes they seek, always motivated by a desire to help. To put that desire into action, a physical therapist has to understand what to do at each moment and each stage, and take the initiative in implementing actual therapy.
Physical therapists also function as part of Team Medical Care. They must therefore both maintain their own opinion and harmonize with other types of professionals as part of a rehabilitation team.
To understand people as care providers, we must first learn to objectively see how others view our own position and actions. Because regular objective observation of oneself is so important to understanding others, the Department of Rehabilitation's Physical Therapy Course provides active guidance related to the ways that students present themselves visually, verbally, and through their actions. In this regard, this program may be somewhat unique from ordinary universities.